Courses offered at the Azabu Juban Studio
Outline of Classes and Lessons
Offered
class name
overview
Cheerdance
Elementary school students
Grades 1 – 3
16:05 – 16:50
Class starts with cheerful greetings, and then moves to motions, steps and jumps based on cheerdance! Students enjoy dancing along with the music. As cheerleaders, students will be able to greet others in a loud voice and respond to their greetings.
As students gain the confidence to express themselves freely in front of large groups of people, they will also develop the flexibility, sense of rhythm and agility necessary for physical growth through their regular lessons.
Cheerdance
Elementary school students
Grades 4 – 6
16:50 – 17:50
Students gradually develop their abilities beyond basic cheerleading moves to learn more advanced physical skills and cheerleading techniques.
As cheerleaders, by having awareness and further incorporating more advanced skills into their lessons, students will develop a stronger body and mind, cooperation, consideration and a strong spirit of never giving up.
– Differences between cheerdance and cheerleading –
Cheerdance is a sport based on the dance elements of cheerleading,
and it does not include acrobatics like tumbling or stunts.
In this sport, 2.5 minutes of dance steps are created including pom dance, line dance, hip-hop dance and jazz dance.
As a team, students compete with a sense of unity and expression.
This is a sport where the athletes' smiles and powerful performances delight spectators and give the athletes themselves energy and cheer.

Assembly and Greetings
Words from the teacher(announcements and information about lessons, approx. 5 min.)
Dance warm-ups/stretches
Develops flexibility along with warming up the body to prevent injuries(approx. 10–15 min).
Cheerdance basics practice
Aims to improve basic techniques through practice of cheerdance fundamentals such as kicks, motions and balance beam (approx. 10–15 min.)
Dance practice
Varies depending on age and grade level. Develops students' sense of rhythm and cooperation as they learn and remember ways to use the body (approx. 15 min.)
Assembly and Dismissal
Dismissal and departure.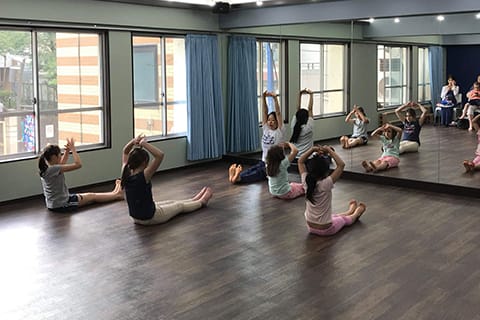 5-10-32 Roppongi, Minato-ku, Tokyo 106-0032
Aito Bldg. No. 1 Annex 2F
Jugoya Studio