Azabu Juban Studio Classes and Fees
Enrollment process and fee explanation

Application for trial lesson and class observation
At JCI Kids Cheer Club Azabu Juban Studio, we offer free trials.
Please try the lesson that you are interested in once first.
By trying a class, you can clearly understand the lesson atmosphere. We also warmly welcome those who wish only to observe a class.
We accept reservations and consultations for trial lessons by phone, so please call us to apply.
Fee explanation and lesson descriptions
We will not only explain the classroom's fee system, days and cheerdance lessons, but also this school's approach to teaching.
Please ask one of our staff members if you have any questions or concerns.
Enrollment→Lessons start!
We will accept your official enrollment application after ensuring that all your questions have been answered.
*Enrollment fees paid on the day of enrollment will be 50% off. Plus, you will also receive a pompom gift!

Enrollment fees
¥10,000
+
uniform
¥15,000~
Lesson fees
¥12,000 (four class tickets) / ¥23,000 (eight class tickets)
*Prices shown include tax.
*Uniform style: ribbon, upper and lower uniform, spats、pompoms, socks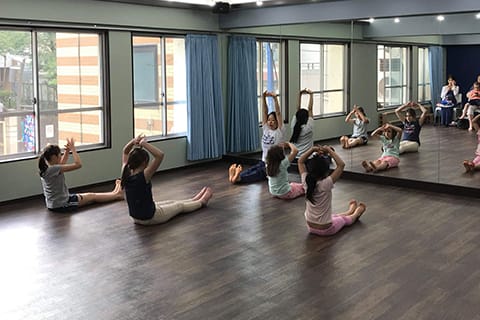 5-10-32 Roppongi, Minato-ku, Tokyo 106-0032
Aito Bldg. No. 1 Annex 2F
Jugoya Studio